Leather Cleaning Guide - How to Clean Leather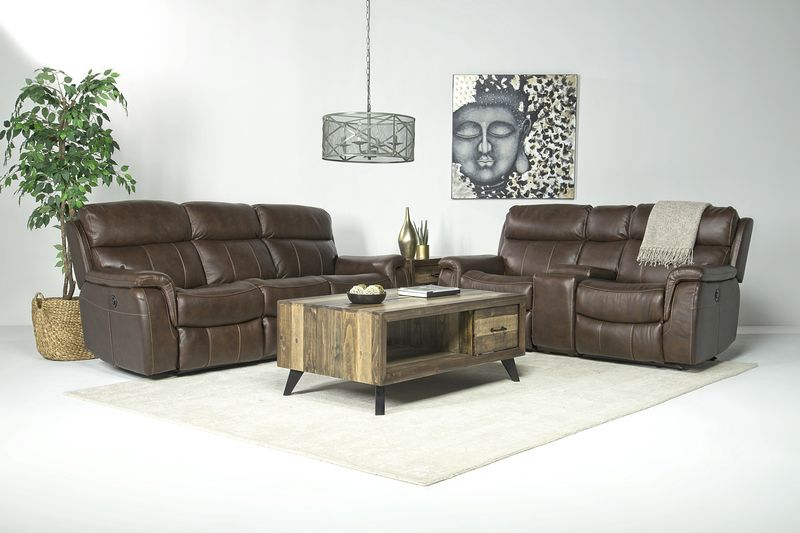 Mor Furniture for Less is here to bring you the complete guide on how to clean leather properly. Leather furniture is a significant investment in your home. While the material is known for its durability and longevity, it's crucial to maintain the pieces to look their best. However, many people aren't sure how to clean leather.
Cleaning leather can be tricky, but it doesn't have to be when following the Mor Furniture for Less leather cleaning guide. We'll walk you through the different types of leather furniture on the market and help you find the best cleaning method for your specific pieces.
Whether you have leather recliners in your basement or game room or a large leather sectional couch in your living room, you can clean all types of leather furniture safely and effectively. All you need is the right supplies, knowledge, and method. Your leather furniture will be looking as good as new in no time at all, and we're here to give you some tips on how to keep it looking its best longer between cleanings.
Different Types of Leather Furniture
Not all leather furniture is the same. Several main types of leather are used to create furniture, and some call for more careful cleaning than others. Genuine leather includes Full Grain and Top Grain, and there are other types to consider, too. Some leather furniture is pigmented, and other types use a leather match blend.
Full Grain Genuine Leather
Full Grain genuine leather uses the first two layers of leather on a cowhide. This creatures furniture that durable and long-lasting, yet still breathable. Full Grain leather is the highest quality of leather furniture that you'll find, made from the finest parts of the hide. However, this means that you must be a little more meticulous during the cleaning process.
Top Grain Genuine Leather
The second grade of high-quality genuine leather is Top Grain leather. Top Grain leather includes the outermost layer of cowhide, without the second layer used by the Full Grain variety. It's still incredibly soft and comfortable, and it will continue to soften over the years. Often, furniture makers will sand the top and apply a finish, making Top Grain leather more resistant to spills and stains. It's also easier to clean compared to its two-layer counterpart.
Leather Match
Another popular type of leather furniture is Leather Match. While the main components of the seating area, such as the cushions and armrests, consist of genuine leather. Then, segments such as the sides and back of the piece use faux leather. Choosing a piece with a leather match often means a lower price tag and easier cleaning.
However, that doesn't mean it's short on style or durability. It's the perfect way to get that classic all-leather look without breaking the bank. And, when you shop Mor Furniture for Less, you can rest assured that you're getting the best price in town.
Pigmented Leather
Not all leather is the classic brown and tan that we're accustomed to. Modern leather furniture pieces are designed to fit the interior design theme of your home without having to sacrifice the luxurious look and feel of leather pieces.
Pigmented leather is genuine leather or leather match that contains opaque pigmented dyes. Pigmented leather is drum-dyed with two protecting layers of coating on top to seal in color. You'll find leather furniture in many colors these days, including white, blue, black, gray, and even fire engine red.
How Often Should You Clean Leather?
How often you clean your leather furniture will depend on how heavily you use it and the intensity of use. If you have a leather couch in a guest room that's rarely used, you won't have to clean it as often as the family couch that goes through the wear and tear of kids, pets, and everyday life.
It's essential to know how often to clean and care for your leather, as pieces that go uncared for can crack, requiring to buy new furniture more often. However, if you clean leather improperly, it can cause damage, stains, discoloration, cracking, and peeling and even completely ruin the seating.
For leather furniture that you use regularly, you should clean it every two-to-four weeks. You should still clean leather furniture that doesn't get heavy use, as leather has to remain adequately protected. However, you can likely skip a cleaning session or two without negatively impacting the pieces. Still, be sure to clear the furniture of dust or debris whenever any is present.
4 Steps for Cleaning Leather
In just a few simple steps, you can effectively clean your leather furniture and know how to clean leather for many years to come. The process is straightforward, and many are surprised to learn how low-maintenance leather furniture can really be.
Follow these four steps to clean your leather furniture.
1. Remove Dust and Debris
All furniture is bound to collect dust and debris over time, even if you rarely use the piece. Crumbs from the kids' after-school snacks, pet hair, and that dirt that seems to come from nowhere all end up on your leather seating.
Instead of wiping this debris away, the best way to remove it is to use a vacuum attachment. Wiping the dirt away may cause scratches on your furniture while vacuuming quickly removes as much as possible without creating friction against the grain.
2. Carefully Wipe the Furniture
You'll need a microfiber cloth, some mild dish soap, and a little bit of water for this step. You'll want to make sure the microfiber cloth is slightly damp but not wet or dripping with water. If your cloth is too wet, it can soak the leather, leading to damage. Additionally, it can cause mold and mildew to develop in the crevices over time.
You'll notice that the microfiber removes dirt and stuck-on grime, so don't be alarmed if you see your cloth turning black or brown. You're not removing pigment from the leather itself, just the layer of dirt built up on top.
3. Use a Leather Cleaner
Your other option is to skip Step 2 and use a leather furniture cleaning kit. Ask our friendly associates about the leather cleaning kits we have in-store at your time of purchase and for information about our SafeGuard protection plan to have everything you need on hand when it comes time for that first cleaning.
4. Protect Your Leather Furniture
The last step in the leather cleaning process is to apply a protectant to your furniture. You may also hear this referred to as leather conditioning. This will help it maintain its brand-new appearance for years to come. Use a new microfiber cloth and apply the protectant as instructed by the product.
Use just enough protectant to rub into the furniture thoroughly, and remove any extra with a dry microfiber cloth. This step helps protect your leather against everyday build-ups, such as that from body oils, products like lotion or hair spray that may rub off onto the piece, as well as dirt and grime. It may also help protect against staining or damage in the future.
Protecting or conditioning your leather furniture is essential to prevent cracking and peeling. It helps the pieces to remain soft and supple with the classic leather look you love. While it may seem like a long process, you only need to condition your furniture every six to twelve months. The furniture you don't use can make it the whole year, while pieces you use daily should get a bi-annual application of conditioner.
Leather Cleaning Solutions
To avoid damage to your furniture, you should only use cleaning solutions approved to treat the material safely. Never use disinfectant wipes, all-purpose sprays, or glass cleaner on your leather furniture. These products can dry out the leather, causing permanent damage.
Instead, only use leather-specific cleaning kits and solutions. Of course, the easiest way to clean the pieces is with a bit of water and a few drops of mild dish soap. You can clean your furniture with materials you already have, significantly cutting down on maintenance costs.
For protecting and conditioning your leather furniture, you'll have to purchase the right kit or product. A quick internet search will yield plenty of results and options. Read reviews of the product and any essential warnings or information in the product description or label to make sure that the product will meet the needs of your furniture.
How to Keep Leather Looking Clean for Longer
One of the most common questions we hear regarding how to clean leather is how to extend the time between cleanings. No one likes to spend hours vacuuming, wiping down, and conditioning their furniture. It can be a process, and when you have kids and pets running around, it can seem like you just don't have the time.
To help keep leather looking cleaner longer, the clean-as-you-go method is a good approach. Wipe up any spills immediately, vacuum frequently, and don't get the furniture wet (no wet swimsuits on the couch, for example). Then, make sure you have the proper conditioning schedule. Keeping up with applying protectant or conditioner makes all the difference.
While vacuuming and wiping down the furniture can keep it looking nice until the next cleaning in a few weeks, keeping it adequately conditioned will help it stay in better condition for the months and years to come.
Replacing Leather Furniture
Of course, there will come a time when you will have to replace your leather furniture, just like everything else in the house. Over time, wear and tear breaks down the leather grain, which causes it to look dull and lackluster.
However, there's no need to be discouraged and no need to question whether leather furniture is a good investment. When you take care of it properly, a piece of leather furniture can last anywhere from 15 to 20 years. Your furniture will stay with you through moves, major milestones, and well into the future.
At Mor Furniture for Less, we have a wide assortment of leather furniture, including sectional couches, accent chairs, lounge chairs, recliners, loveseats, and more. When you visit our showroom, our leather experts will discuss your family's needs, your design vision, and any other questions you may have to find the furniture that's right for you.
We're the best leather retailer with the lowest prices with our Double the Difference Guarantee and our SafeGuard Protection plans. Come find your next furniture addition today.