Cottage country decor themes are becoming more and more popular in the world of interior design. Not to be confused with farmhouse decor, the style has unique and distinct characteristics. Contrary to many other design styles, cottage country only recently started popping up on social media pages and magazines. The development of the look began in the 2010s, and enthusiasts first coined the name in 2018, primarily in the world of Tumblr.
Since then, cottage country decor has been taking over homes and interior design blogs. As more people leave city life behind for quieter, more isolated places, they're embracing more natural lifestyles. Part of this means bringing soothing vibes into your living space, focusing more on getting the outside elements in, and decorating with vintage-inspired and shabby chic pieces.
Keep reading to learn more about this unique interior design theme, its origins, how to implement the style in your home, and our favorite cottage country products available at Mor Furniture for Less.
What Is Cottage Country Decor?
You'll often hear cottage country decor called "cottage core," especially if you're searing social media pages for design inspiration. That's because this is a style that teens and young adults began to cultivate in recent years, a significant shift from design themes of the past. The younger generation values it as more than just a decorative theme but also a way of embracing a more rural and rustic lifestyle that brings back elements of the past. Many refer to it as the design style of millennials and gen Z.
However, the decor theme is catching on big time in homes everywhere. The nostalgia that the style brings is comforting to many, and post-pandemic people began focusing more and more on the coziness of their homes. As many spent more time cooking meals at home, spending their free time in living rooms and home offices that double as libraries, they found that the more rigid design schemes don't meet their current needs.
While cottage country decor still keeps minimalism in mind, you'll find many more soft textures, rounded edges, and rustic furniture pieces. The design style may be newly-named, but the appearance is timeless. One of the things that people love most about the new design trend is that there are no hard-and-fast rules, and it provides the opportunity to be unique when decorating your perfect home.
The style comes with heavy influence from old-school English cottages, the Romantic Revival elements that were popular in the 1970s, and natural botanical vibes that you'll see in classic English gardens. People say that cottage country decor brings together the best of everything. The most loved concepts are the ability to mix and match furniture, layer textures of all kinds, use plenty of home accents, and use various patterns and textures.
Imagine a small, quaint cottage in the forest or in the English countryside. Think of the blue skies above, the greenery surrounding the home, and all the pleasantries that may be inside. These things are the essence of cottage country design to many, and it's extremely inviting.
How to Decorate Your Home with Cottage Country Decor
The style may sound extremely specific and hard to implement, but one of the best things about it is that you can do so in any way you please. There are a few best practices to follow, but you can take what you need and leave the rest, making your home feel as much like a cottage as you like or retaining more of the modern elements you currently have.
Below are eight tips on decorating your home with cottage country decor.
1) Go Big on Vintage-Inspired Pieces
While many country cottage enthusiasts love to shop flea markets and score bargains on secondhand items for a more well-loved look for their furniture, this isn't always necessary. There are many brand new vintage-inspired pieces that you can find brand new at stores and local retailers. Pieces with distressed finishes, ornate carvings, and round edges are the way to go when choosing these items.
Look for curvy mirrors, furniture with sturdy metal hardware, and distressed paint. By buying new, you can rest assured that your new "vintage" furniture will last, as most come with a limited warranty. Get the look of old but the feeling of new when shopping this way.
2) Layer, Layer, Layer
Cottage country decor is all about soft surfaces, cozy accents, and everything that makes a home feel warm and inviting. One of the best ways to do this is to bring cushy accents into your home. The style is also big on texture, providing an excellent opportunity to grab all the soft fuzzy pieces you want without breaking the scheme.
Here, think about warm throw blankets, lots of accent pillows, floor coverings, window coverings, and furniture upholstery. People love to add deep piled floor coverings to hard surfaces in country cottage-style living spaces for a more comfortable and relaxing experience before kicking their feet back. Mixing a colored upholstered chair or sofa with patterned blankets and accent pillows is entirely acceptable. Many prefer sheer curtains that bring in lots of natural light.
Soft textures are the go-to with this style. Again, think a little bit retro or vintage. Velvet upholstery is very in, fuzzy blankets and pillows on top are the perfect accents, and the wispy sheer curtains complete the layered texture look.
3) Use Lots of Home Accents with Fine Details
Here is the perfect way to bring practical and decorative pieces into your cottage country home. Hanging wall art, clocks, mirrors, and artistic pieces are great ways to do this. Go for pieces with natural or distressed wooden frames, art that features elements of nature or fine sketches, and gilded and curvaceous mirrors.
You can also get a little bit quirky with your decor when choosing this style. Strategically-placed tabletop decor that features animals or natural elements like feathers or trees screams cottage country.
4) Mix-and-Match Materials
Like industrial-style spaces, cottage country homes like to mix and match materials inside the house. You can have a wooden kitchen table next to a metal bar cart and an upholstered couch, all in the same space. Mixing and matching is one of the most popular aspects of the design style.
When sticking to the right palette, you can also mix-and-match colors in the same room. Bring white cabinets into the kitchen and showcase chairs with natural wood grain. Dark metal hardware accents on drawers, light fixtures, and shelves still match the vibe. The difference between industrial and cottage country decor is that the industrial style features more straight, sleek lines and a little cold feel. Cottage country decor has softer elements and appears warm.
5) Add Lots of Greenery & Nature Schemes
Adding greenery to homes is a decor element that people have used for many years. Take that vibe and amplify it when creating a cottage country home. Think of hanging vines, tabletop plants, indoor floral arrangements, dried potpourri in glass containers, and framed botanical prints.
If you don't have a natural green thumb, that's okay. You can use faux plants and flowers for the same look. Additionally, you can take this opportunity to include nature prints and florals on other accents in your home. Think of hanging wall art with greenery, throw pillows with nature themes, and animal prints.
6) Contrast Colors
The great thing about cottage country homes is that you don't need to stick to any particular color palette. The style encourages you to choose one that suits your taste and makes you feel as cozy as possible. While light and airy is the main vibe, don't be afraid to go with a bold wall color such as deep slate or emerald green. These backgrounds provide the perfect backdrop to bring in plenty of lighter colors, such as bright white, beige, cream, and light pinks and yellows.
7) Create Cozy Nooks
If you have a breakfast nook you're not using or an empty area under bay windows, this is your chance to create an oasis with the ultimate comfort. If you don't have a seating area directly under the windows, it's a great DIY project (another key element of cottage country decor). Top the seating area with plush cushions, add a throw blanket and pillow, and spend your Saturday reading comfortably with a warm mug of tea.
8) Display Your Books and Magazines
Don't hide your reading material in drawers, nightstands, or ottomans anymore. Instead, keep the items on display. Having the right bookcase or media console provides a timeless look, and guests will likely check out your collection when they visit. This can spark unexpected conversation as you discuss your favorite titles. Whether they're hardcover books or paperbacks with worn and well-loved edges, put them out for all to see.
Keep attractive coffee table books on the table, too, especially if they feature art or nature. Having reading material visible around the house is a less thought-of element of cottage country decor.
Cottage Country Pieces at Mor Furniture for Less
At Mor Furniture for Less, we're big on staying on-trend with the most stylish pieces of furniture, decor, and home accents. If you're looking to incorporate the new cottage country design style into your home, we have the furniture, art, rugs, and finishing touches you need.
Here are five of our favorite cottage country-esque pieces you can find online or in a Mor Furniture for Less showroom near you for every room in the house.
1) For the Living Room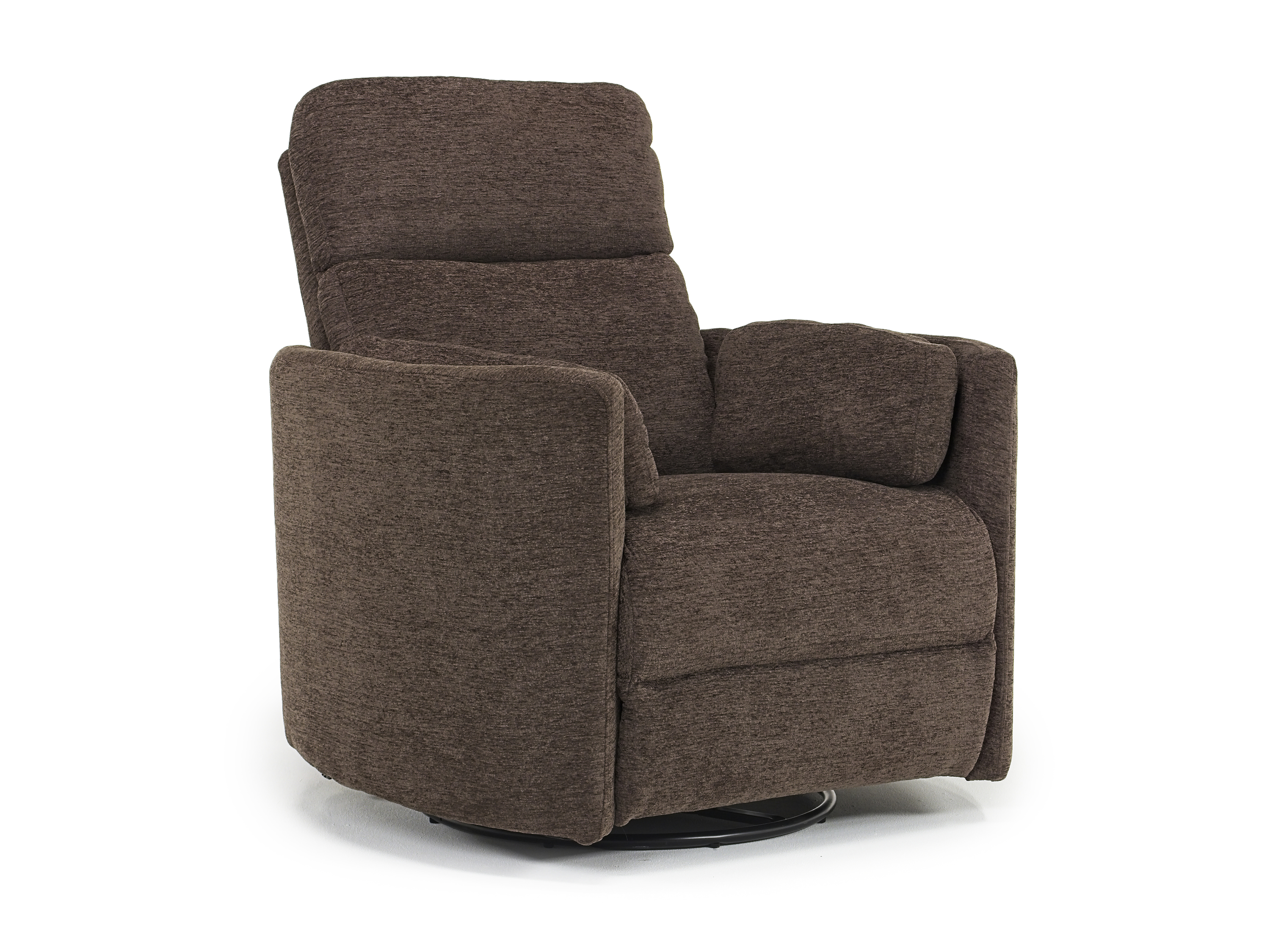 Recliners are an essential part of many living rooms, providing the ability to kick back and take a load off after a long day. Since country cottage decor is all about comfortability, it makes sense that recliners remain a mainstay. This is the perfect opportunity to bring in an upholstered piece, like the Radius Power Recliner in Dark Brown. The rich yet neutral color fits the theme perfectly, and the soft, rounded edges are cottage country-approved.
2) For the Dining Room
Following the vibe of years past, the Somerset Round Dining Table in Vintage White checks off all the cottage country boxes. Rounded edges, natural wood grain, and a neutral white base provide the piece with a fashionable and friendly look.
3) For the Bedroom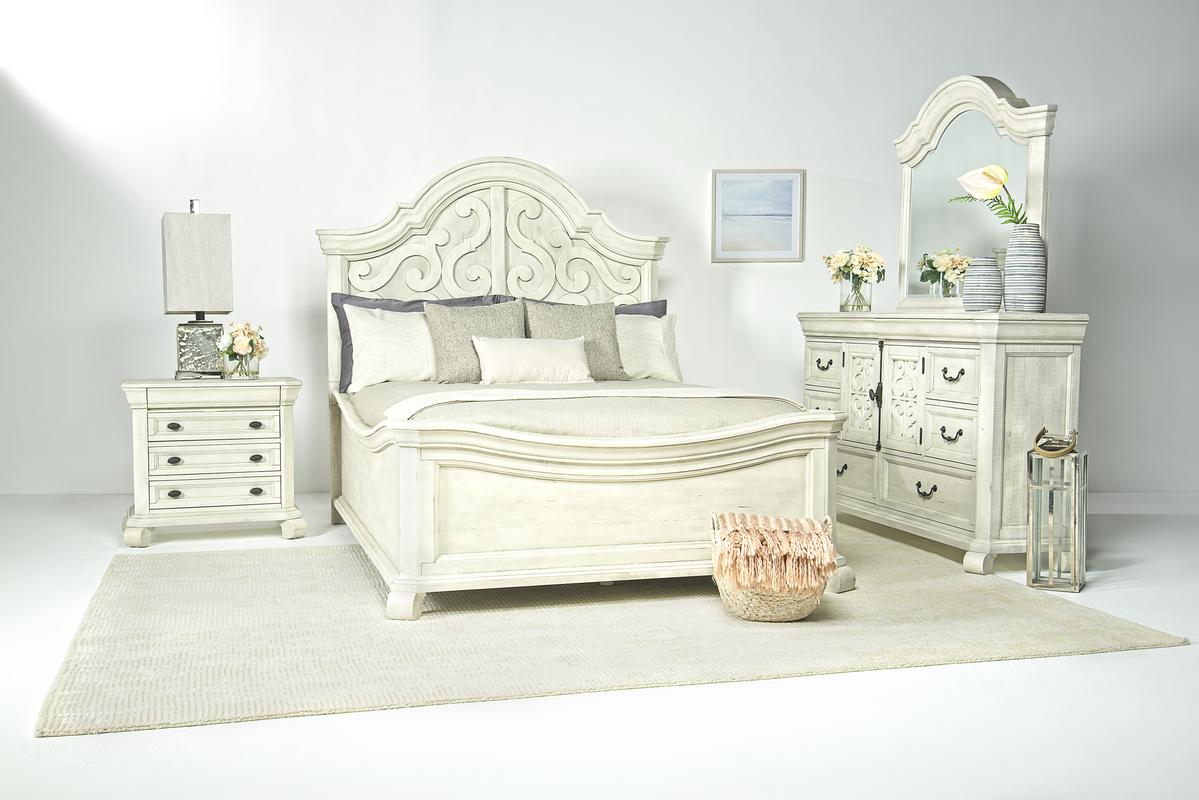 The Bellamy Arch Panel Bed, Dresser, and Mirror set is the set to buy if you're looking to redo your bedroom in a cottage country style. It's full of timeless pieces, curvy carvings, beautiful molded feet, and that distressed look that's so in with the style.
4) To Display Books and Decor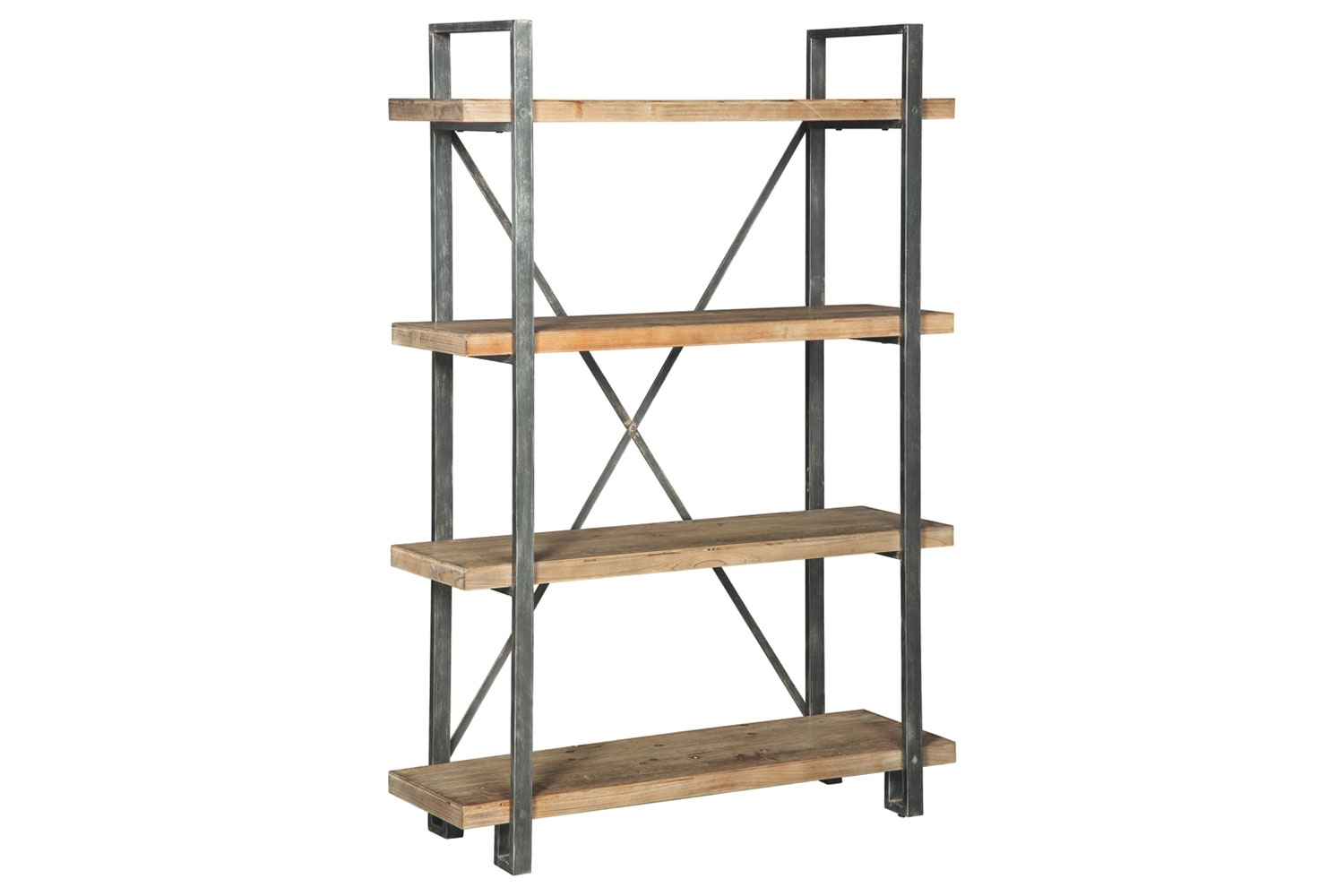 The Forestmin Tall Bookcase in Natural Wood & Gray Metal brings that mixed-medium look into your home. Whether you place it in the living room, den, or home office, showcase all your reading material and some decorative pieces on the four shelves. It's an eclectic piece that keeps with the open and natural feel of cottage country decor. Add a few succulents or potted plants to the shelves to bring in that element of greenery as well.
5) Home Accents for Any Room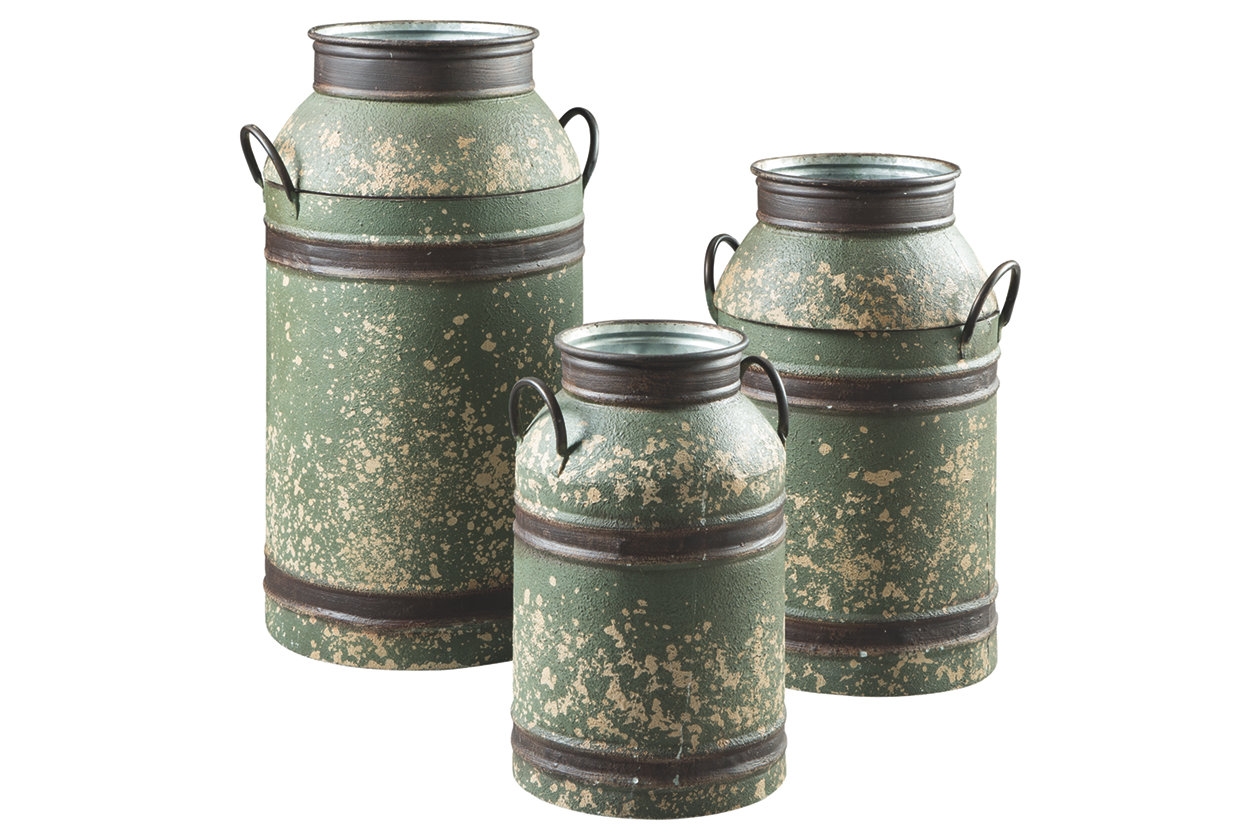 The Elke Antique Cans, Set of 3, are the perfect example of buying new items that appear vintage. Better yet, the distressed green finish gives off that feel of nature, making the set look like it's meant to be. They're a country decor staple and are suitable for virtually any room in the home. Place them in the foyer, the living room, or the kitchen counter. The cans stand well independently but can also serve as a place to display faux flowers.
Also, don't forget those comfort elements that cottage country style centers on. The Janah Pillow in Pink features a unique texture and light color that matches the design scheme, while the ultra-plush Luxe Shag Rug in Ivory makes for the perfect floor covering. If you're looking for a new cozy throw blanket, the Yasmin Throw Blanket in Emerald sticks with the greenery theme and allows you to contrast light and bright colors.
Shop Mor Furniture for Less Today
To get the best cottage country decor furniture and home accents, shop Mor Furniture for Less today. With our exclusive Double the Difference Guarantee, you'll know you're getting the best price in town. If you find a better deal on an identical item at a local retailer, we'll refund you the difference times two. Visit a showroom near you or browse online today for all your cottage country decor needs.