The corporate landscape is shifting, with more people working from home. Knowing the best work-at-home office ideas can help you maximize daily productivity while keeping a great mental headspace. What's even better is that with this change comes the ability to customize how your new workspace looks. Your "office" can now reflect your style and taste while serving practical functionality.
Mor Furniture for Less is here to give you the top work-at-home office ideas. Create a new workstation that meets all your needs, from the highest-rated desks and storage units, wall art, area rugs, decor, and more.
Keep reading to learn our top 22 favorite tips, office ideas, and must-have furniture and accent pieces to design your workspace.
Work At Home Office Ideas
We're here to cover everything from which color palettes help spark creativity to which office chairs and desk furniture provide the ultimate comfort. Plus, we'll give you some bonus tricks to help you get the most out of your day.
1) Choose the Right Desk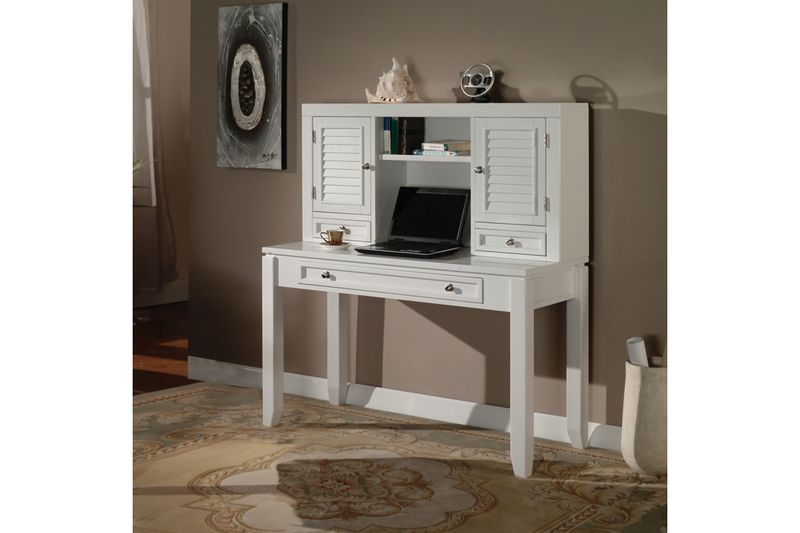 The Boca Office Desk & Hutch in White
Consider whether you have more of a compact space in an apartment or want a grand desk with plenty of drawers, cabinets, and shelving to fill a dedicated room in your home. At Mor Furniture for Less, you don't have to sacrifice functionality based on the size of your space. We sell large desks, and even our smaller pieces have convenient features to help with organization.
2) Electronic Charging Units
You're probably on your cell phone a lot these days. You also have more things to plug in, like your laptop or computer and perhaps a printer. Choose pieces with dual functionality that offer built-in outlets and USB ports to provide easy access to power at all times. When using an external power source, make sure you plug all electronics into a properly rated surge protector to protect the life of your electronics.
3) Go for Minimalist Pieces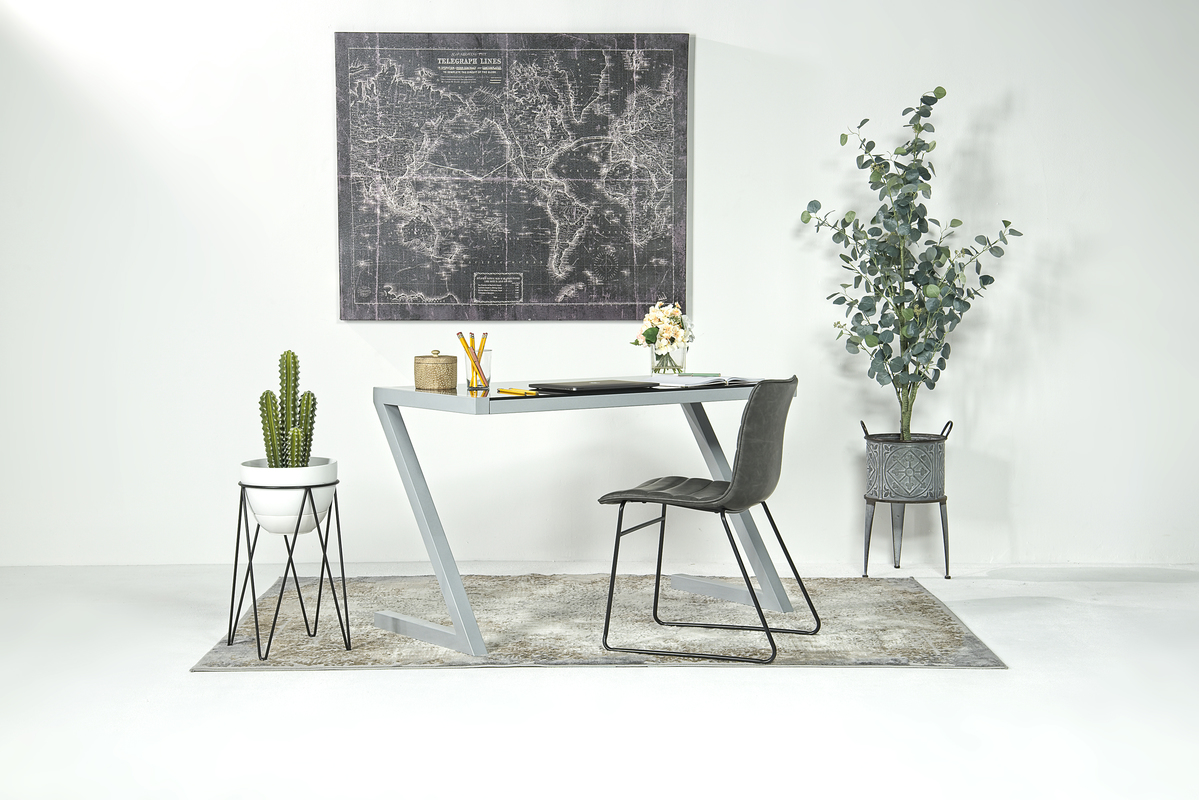 The Efron Office Desk in Silver
Having a cramped and cluttered space can hinder your performance, jumbling your thoughts. Instead, choose a minimalist design that incorporates only what you need with sleek, streamlined pieces.
4) Create a "Fake Window"
If your home office doesn't have a window, there are accents you can add to provide the illusion of light and scenery. Opt for wall art that features natural landscapes, or add a handing mirror to make the space feel larger and airier.
5) Consider a Light Color Scheme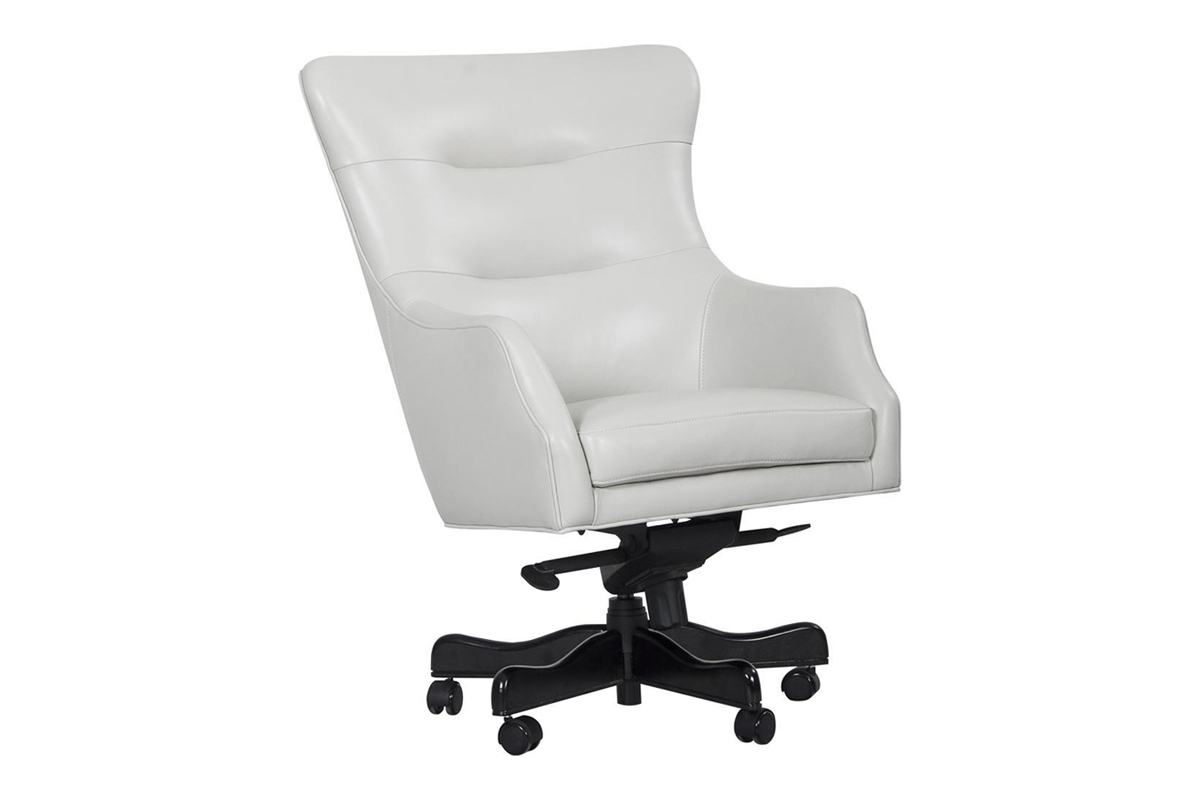 Leather Office Desk Chair in White
Choosing the right color palette for your home office is essential. Science proves that colors can evoke different moods, so you want to be sure to select a palette that encourages motivation. Dark colors can cause you to feel trapped and can make your space seem smaller than it is. However, light doesn't have to mean boring. You can choose from pastels such as lavender or mint or stick to classic crisp whites and beige.
6) Add a Pop of Color
Adding a vibrant pop of color here and there is a great way to liven up your space. Colors like orange, red, blue, and yellow are the best for sparking creativity. Pink can encourage happiness, and green helps promote balance. Choose accent pieces that feature these colors to bring the right mood into the room.
7) Tie the Room Together with a Rug
Nothing ties a room together like the right area rug, which can prove to be the perfect mat under your office chair. This is another chance to introduce a bright color or unique pattern to your space. Or, keep it sharp and monochrome–whichever you prefer.
8) Double Up When Necessary
If you and your partner or roommate are both now working from home, you may be extra short on office space. Place desks caddy-corner to optimize your space and create a workstation for two-in-one.
9) Add Extra Shelving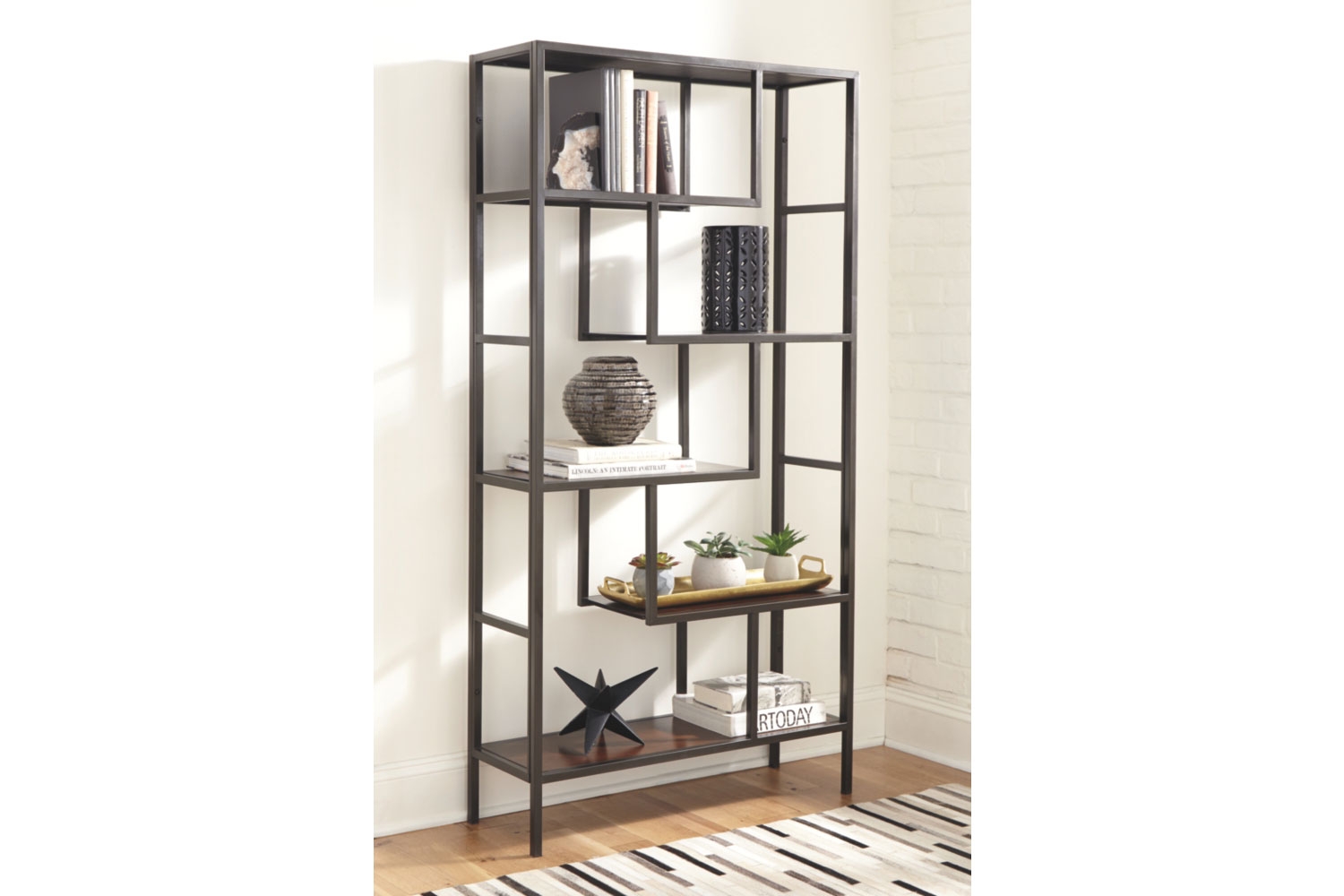 The Frankwell Tall Bookcase in Brown
If your space allows for furniture beyond the essentials, adding extra shelving is an excellent way to help keep your important files neat and organized. You can also take this chance to display meaningful mementos such as family photos, awards, diplomas, and more.
10) Don't Forget the Fun
Things like stress balls, fidget spinners, and even Rubik's Cubes add fun to your desk and help the space feel less stiff. However, they're also proven to promote focus. Stuck on an idea? Sit back for a minute to fidget and let it come to you.
11) File Cabinets for Smaller Spaces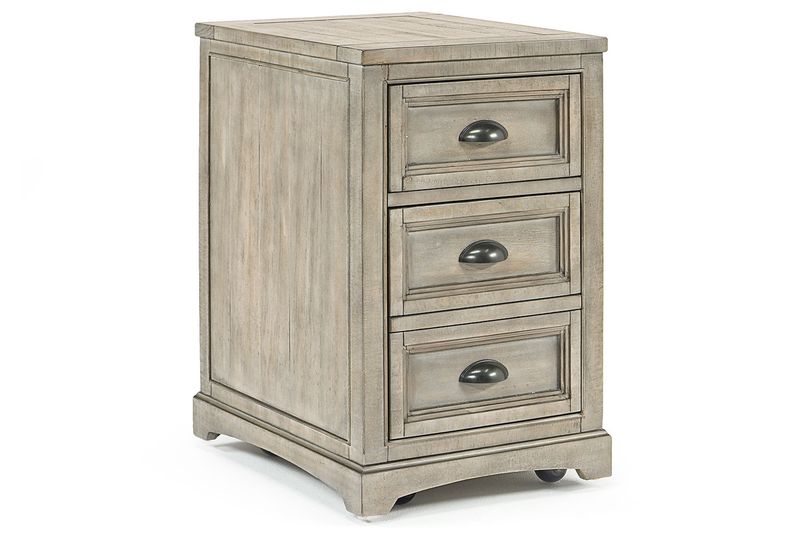 The Bay Creek File Cabinet in Light Gray
Finding the right compact file cabinet is essential if you're working in a smaller space. Hold only the items you need right at hand without adding clutter to your workstation.
12) Repurpose Another Space
Many people don't have entire rooms for a new home office. Find a spot to repurpose, such as a large walk-in closet, breakfast nook, or corner of the bedroom where you can add compact office furniture.
13) Add Greenery
Adding greenery to your home office is a great way to help you feel refreshed throughout the day. You may not have a corner window office, but that's okay. Houseplants help bring the view to you.
14) Get the Right Accessories
There's no denying it. Working from home can get distracting. It can be noisy if you have kids running around, dogs barking, or landscapers outside. Get accessories such as noise-canceling headphones to help quiet things down.
15) Find Art That Speaks to You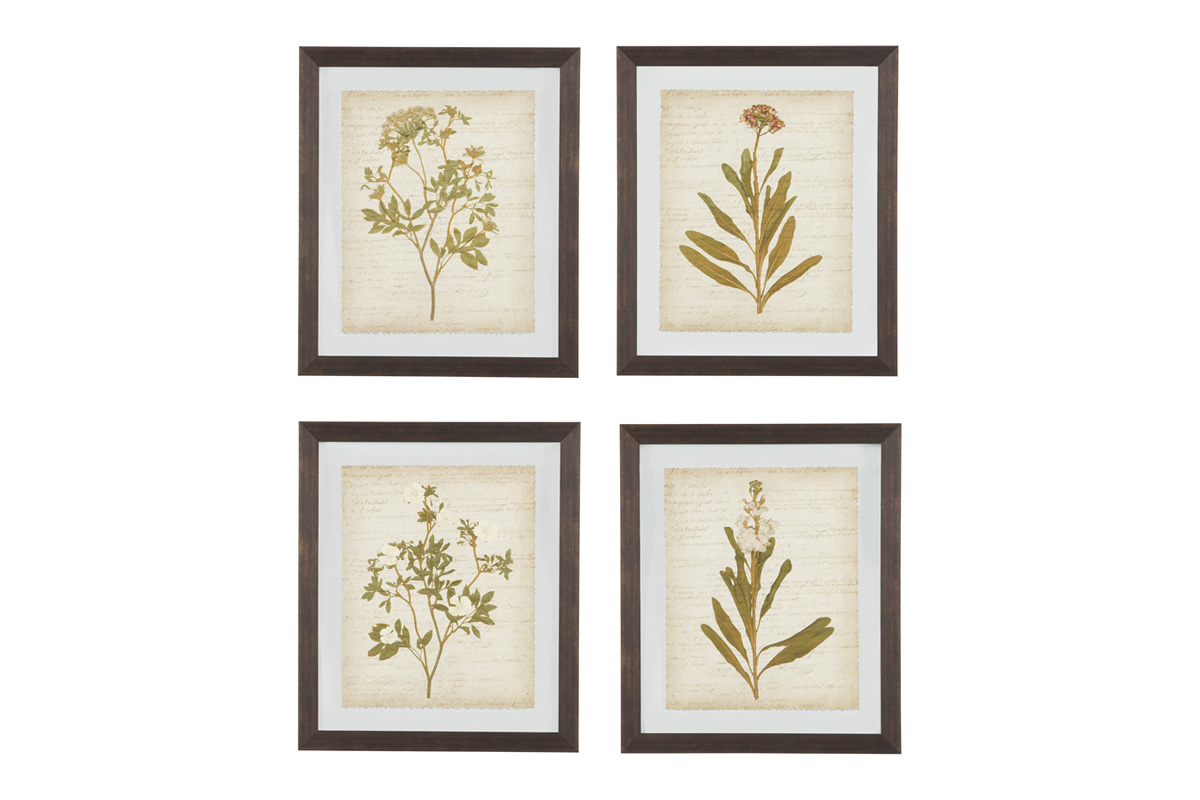 The small details can make a huge difference in how you feel throughout the day. Optimize your workspace for maximum productivity by adding art that speaks to you. Wall art can be the best way to go as it doesn't take up valuable floor space.
16) Add Soothing Touches
You may not have had the option to add all the soothing touches you'd like to your space at the office. At home, it's a different story. Add aromatherapy diffusers, white noise machines, or stream your favorite LoFi live station in the background. These are all things that can help you focus at home.
17) Optimize Lighting
Gone are the days of harsh fluorescent lighting overhead. Choose soothing, warm accent lighting to highlight your new workspace. Add wall sconces if you're short on surface area, or choose a table lamp to keep on your desk. Sleek floor lamps can also sit stylishly in the corner without crowding the room.
18) Pick Sheer Window Coverings
Take advantage of the natural light if you have a window in your new home office. There's nothing better for the mind, body, and soul than the sun on a beautiful day. At the office, you likely didn't have this advantage. Make the most of it here. Choose sheer window treatments to let the light in to improve mood and increase productivity.
19) Get Comfortable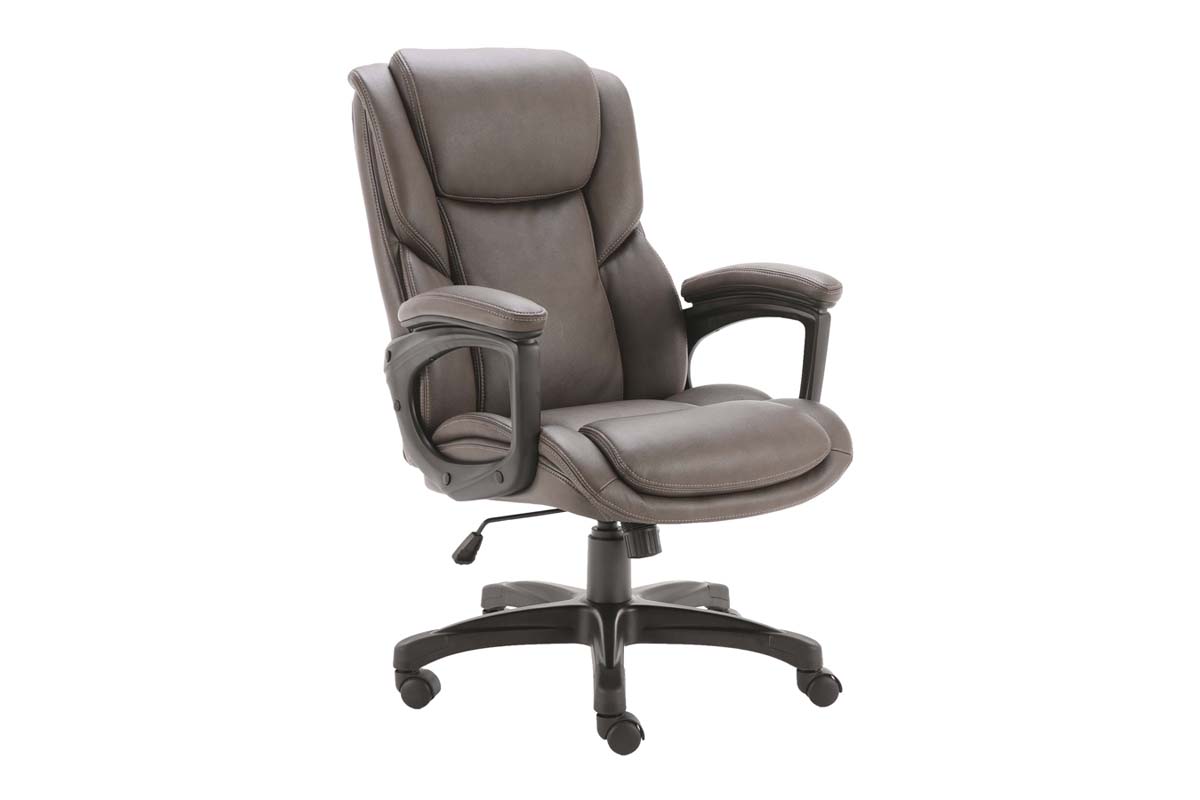 Previously, your company likely provided you with a chair. Many people complained of back pain, sore legs, and stiff necks. Now, choose a desk chair that provides the ultimate comfort to avoid these unpleasant sensations. Like the mattress you sleep on, you spend a significant portion of your day in your office chair, so it's essential you find something that will be functional and comfortable.
20) Declutter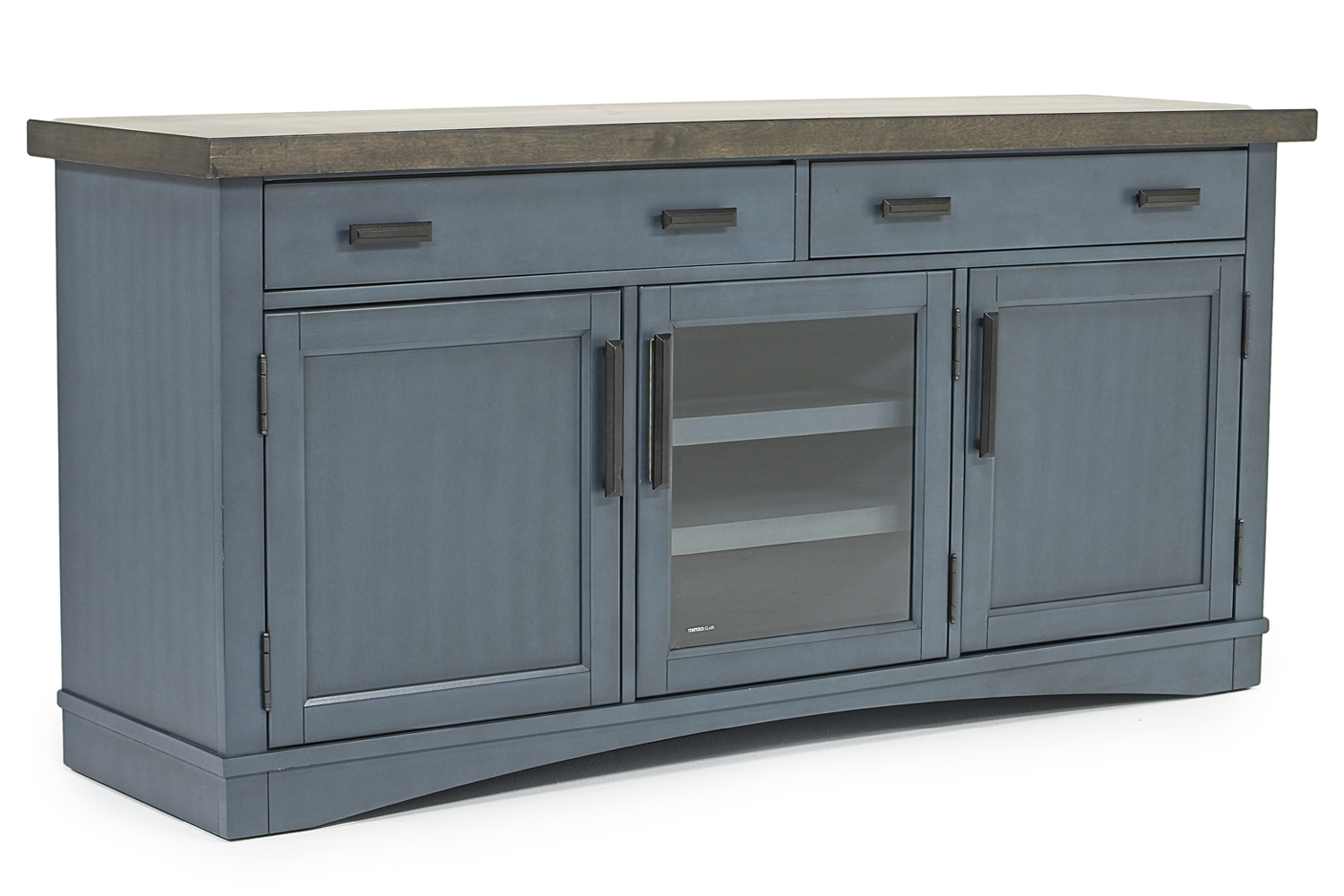 The Americana Media Console in Blue, 63-Inch
If you're in a space with papers piled high, books stacked on the ground, and last season's clothes stored in the corner, it can overwhelm you and lead to lower productivity. Instead, find a media console with cabinets and drawers to stash everything out of sight.
21) Personalize Your Materials
Go ahead and get those notebooks with the catchy phrases or those pens with funny sayings. Pick contact paper with bold patterns to cover the surface of your desk and get funky, crazy, and cool. Now is your time to shine and let your personality show on all your belongings in your new home office.
22) Get Cozy
Jacinta Throw Blanket in Cream/Blue/Orange
Was the corporate office always too cold? Or maybe it was sweltering no matter what time of year. Now, you control the temperature. If you're the type who likes to get cozy, add a throw blanket in your pop color of choice to keep it nearby. Don't forget a throw pillow to match!