What Is Modern Traditional Style?
When choosing furniture and decor for your home, a modern traditional style selection of pieces is an excellent option to incorporate into your space. Throughout the browsing and shopping process, you're likely to see many different style terms in product descriptions and categories. These can include everything from farmhouse to contemporary, industrial to transitional, and more. This can leave consumers with questions regarding what items to buy that will adequately match and complete their space. Modern traditional is one of these styles, and it features unique characteristics that set it apart from the rest.
At Mor Furniture for Less, we have a wide selection of all design styles, including modern traditional pieces. Our website makes it easy to browse products by type so you can be sure you're sticking to your theme. Additionally, when visiting one of our showrooms, one of our friendly and knowledgeable design associates will greet you with a smile and guide you throughout the shopping process. We can help you create the home of your dreams, all with beautiful modern traditional pieces of furniture and decor.
Keep reading to learn more about modern traditional style, features the pieces included in their design, and some of our favorite examples from the Mor Furniture for Less collection of furniture and home accents.
What Is Modern Traditional Style In Interior Design?
Modern traditional style is among the most popular themes for interior design, and for a good reason. It retains a classic and timeless look while also bringing in elements that are on-trend now. The overall feel of the style is open, airy, and light. It projects a warm and inviting vibe that's less stiff and formal than traditional style homes.
The basics of the style keep in mind fundamental design characteristics of years past that many designers now consider must-haves in any space. This means you can be sure that when you select modern traditional pieces for your home, they won't end up seeming outdated in just a few years. They'll be pieces you can enjoy and be proud of forever.
Key Characteristics of Modern Traditional Style
Several key characteristics of modern traditional style are paramount to the name. If you're looking at furniture and decor that may not explicitly state that they're traditional style pieces, you can look for these things to see if they will fit your interior design vision.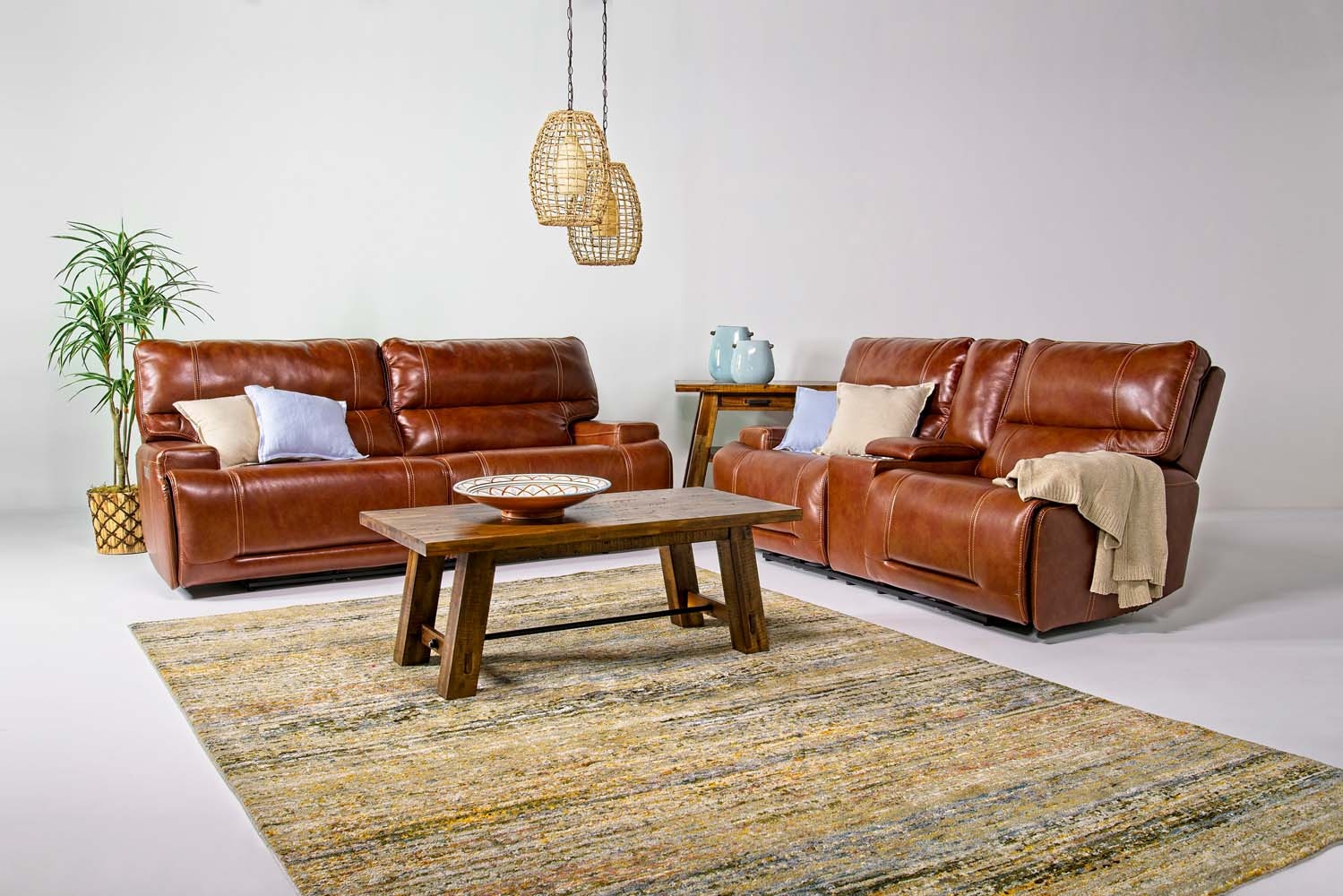 Characteristics of the style include:
Simple, streamlined furniture
Unexpected "pop" accents paired with traditional elements
Rich, vintage, and expressive wall decor
Opulent furniture and decor accents
Soft and soothing color palettes, often in neutral colors
Greenery, houseplants, and floral arrangements
Classic furniture upholstery options such as leather and deep woods
Chic home accents such as mirrors, serving trays, or bar carts
The symmetrical placement of furniture and decor
Natural light and airy window coverings
Simplified luxury items
Elegant floor coverings
Repurposed areas, such as breakfast nooks or mini-library hideaways
Round light fixtures and wall sconces
How to Incorporate Modern Traditional Style In Your Home
Whether you're redecorating an entire room, are looking for one grand statement piece, or a few finishing accents to complete the space, there are many ways that you can incorporate modern traditional style in your home. You can start with the area's color palette, the furniture pieces themselves, or the personal touches that make your home truly "you."
Modern Traditional Color Palettes
The modern traditional style encourages the use of neutral tones to create a light, airy, and calm feel. Keep this in mind when choosing colors for your walls, window treatments, furniture, accents, and decor. An excellent tip is to layer various neutral colors throughout the space. Think warm beiges, crisp whites, and classic browns. You can also incorporate the use of cool grays.
An important element of modern traditional style is adding pops of color in the right places. Consider items such as blue accent chairs, emerald throw blankets, vibrant red area rugs, or even bold black vases and catch-all dishes to bring a room to life.
Metallics are also very "in" when it comes to modern traditional style, particularly in the realm of home accents. When choosing picture frames, mirrors, or tabletop decor, you can't go wrong by selecting items that feature silver, gold, and reflective finishes.
See above, as the Ruff Hewn Panel Bed with Storage utilizes a light wood grain, with layered beige bedding, a brushed bronze table-side lamp, and blue accent pillows. While the furniture features sleek, straight lines, the rounded decor creates a charming feel. The additional storage adds an even more modern twist to the set, perfectly completing the modern traditional look.
Modern Traditional Furniture Characteristics
When looking at larger furniture pieces to bring into your space, focus on the main elements of modern traditional style to really set the stage. These include classic materials such as leather, straight lines, and rounded light fixtures. Don't forget to consider the classic symmetrical look of the style, choosing pieces that mirror each other throughout the room. Symmetry can come in the form of size or shape, such as two sofas facing each other or a long couch that's offset by a rectangular console table.
Bring in pieces with recent design updates, such as a modern coffee table lift top. You can ensure that your furniture includes elements such as charging consoles for your cellphone and electronics, powered recline seating options, and lighting that includes a dimmer switch.
Above, you'll see the Oslo 3-Power Sofa & Console Loveseat that features traditional brown leather. While featuring the classic leather look, the sofa doesn't appear over-stuffed or bulky, sticking with the more streamlined appearance that aligns with modern traditional style. Similarly, you'll notice the coffee table uses straight, minimalist lines and design, while the rounded light fixtures speak to the contemporary aspect of the room.
Take note of the neutral yet more vibrant area rug and the greenery included in the decor. Blue tabletop decor and light purple throw pillows bring in that pop of color the style is famous for.
Modern Traditional Home Accents and Decor
Next, it's time to look at the home accents and decor that fit with a modern traditional style. Here, you can bring in more ornate details and still stick with the "traditional" portion of the design scheme. Choose pieces that feature classic curves, metallic and reflective elements, or fun pops of color.
Pick a bold area rug that will stand out from the neutral color palette of the rest of the room, and choose wall art that goes against the minimalist trend. Instead, choose art that features landscapes, florals, and layers of color. When it comes to choosing additional accents, remember to incorporate houseplants and greenery, as well as chic pieces such as serving trays that can also serve as a resting place for additional deco
Shop Mor Furniture for Less Today
Browse our selection of modern traditional style furniture and decor today, or visit a showroom near you to shop in person. We offer the best prices in town, backed by our Double the Difference Guarantee.
At Mor Furniture for Less, you'll find everything from complete living, dining, and bedroom sets to wall art, mirrors, and smaller home accents to create a calming oasis in modern traditional style. With area rugs, throw pillows, lighting options, and more, there's nothing you'll need that we can't provide. Let us help you turn your house into the home you've been dreaming of with a beautiful selection of modern traditional furniture and decor.