If you're looking for living room or bedroom furniture inspiration in the greater Phoenix, Arizona area, Mor Furniture for Less is the place to shop. With a wide variety of styles that are suitable for every space, you're sure to find something that matches both your personality and the functional needs of your family. Additionally, everything you find at Mor will be on-trend, in-style, and available at the absolute best price in town–we guarantee it!
Our friendly design associates are here to help you create the space of your dreams. With the perfect bedroom furniture inspiration to ensure comfort and tranquility while you rest and living room furniture inspiration that is both purposeful and has that funky Phoenix aesthetic, you're bound to find the pieces you love.
Phoenix Bedroom Furniture Inspiration
We're the premier spot for West Coast home furnishings, with everything from full bedroom sets and mattresses down to the smallest details and accents. In Phoenix, bedroom furniture inspiration is all about natural woods, warm hues, and a style that is both rustic and modern at the same time. Check out these 3 bedroom sets below to shape the look.
Nothing says "Phoenix" quite like the natural grains and varying shades in this magnificent bedroom set from the Salida collection. Add some yellow, rust-orange, or red accents like pillows, poufs, and throw blankets and you have a truly Western theme.
This set comes complete with a king-sized bed, six-drawer dresser, mirror, and matching nightstand for all your storage and vanity needs in one easy purchase.
Another ode to natural wood grain in a bit darker of a shade for those who appreciate the deep espresso hue, the Pine Hill Canopy bed speaks to the modern/rustic fusion that is Phoenix style. Complete with aged iron metal hardware, this transitional set goes well with a variety of accents and styles, including the many eclectic antiques you're bound to find when treasure hunting around the city.
Included in the Pine Hill Canopy bedroom set are one headboard and footboard, bedposts and side rails, a nine-drawer dresser, and a mirror. Additional matching pieces, such as a nightstand, are available to purchase separately if you're looking to complete the look.
Living Room Furniture Inspiration
Phoenix living room furniture inspiration is all about showing off your unique style and personality. Local residents love multi-functional pieces, bold prints and colors, and lots of different textures in one cohesive space. Check out these 3 living room furniture sets and pieces that have "Phoenix" written all over them.
With the look and feel of real leather, but the easy-to-clean durability of upholstered polyester, the Bubba Reclining Sofa & Loveseat set paired with a coffee table that showcases natural wood grain and a warm neutral area rug provide elements of sophistication and great comfort all at the same time. Add some cozy home accents like throw pillows and blankets with chunky rope knotting and you have a very Phoenix living room.
Named after neighboring Tempe, Arizona, less than twenty minutes outside of Phoenix, this entertainment console is an absolute must-have. The cool gray finish is modern and sleek while remaining neutral enough to match any color palette. This entertainment center has everything your living room furniture inspiration craves: extra storage drawers and shelves for neatly organizing every last item, ample place to display your flat-screen TV, and more.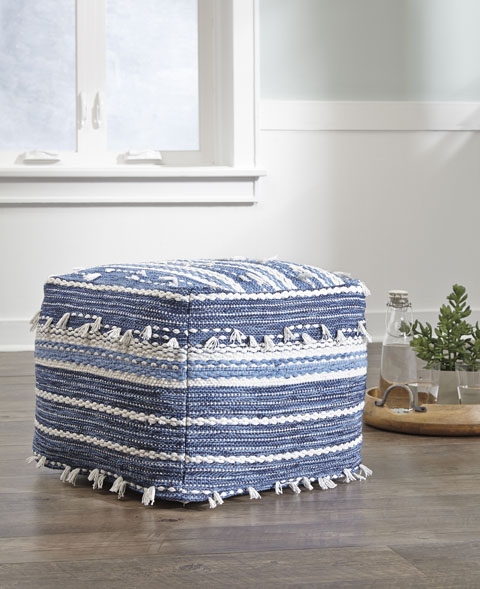 Phoenix is all about the eclectic, the different, the shabby-chic if you will, and that's exactly what this pouf brings to your living room furniture inspiration. Serving as both a decorative element and a functional piece for sitting, resting your feet, or stacking some magazines, the chunky woven rope print is the perfect addition to any space
Shop Mor Furniture for Less Today
If you're looking for more living room or bedroom furniture inspiration, be sure to stop by one of our furniture stores in Phoenix today. Or, take a look online to browse our wide selection. We have friendly design associates and SleepMor experts on staff to help create the home of your dreams.
And, with the Mor Furniture for Less Double the Difference guarantee, you can shop with total peace of mind knowing that you'll get the very best deals in the entire city, every time.